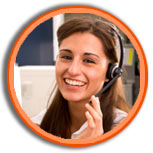 Florida Traffic School Online
Taking The Course
How long will it take me to complete my online traffic school course?
It will take you 4 hours to complete our online course. Regardless of being done online or in-person, all traffic school programs are required to take 4 hours to complete. This is a regulated requirement of The Department of Highway Safety Motor Vehicles (DHSMV).
Does your online course have to be completed all at once?
You do not have to complete our course in one sitting unless you want to. Our online traffic safety courses are entirely self-paced, which means that you can finish them all at once or you can log in and log off as often as you want to. It's completely up to you. If you need to finish the course in one day, you easily can. Conversely, if you have many months left before you need to get done, then you can finish a section a week (or as frequent as you'd like). Our online program always tracks the time spent on each section when you save & log off. When you re-enter your traffic safety course, you will always pick-up where you last left off (rounded to the nearest minute). So basically, the flexibility has been built into our course so that you choose how little or how long you take to complete your trafficschool.
What if I fail the traffic school course?
No matter what traffic school course you choose (online or otherwise), you always have to take and pass an exam, however, with the FloridaTrafficSchool.com Internet course, we allow you several chances to re-test if you fail. In addition, you have the advantage of reviewing any and all test material before answering any of the exam questions. If you are having trouble understanding the course material, feel free to email our partner at
info@trafficschool.com
.