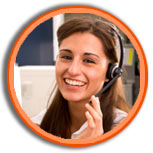 Florida Traffic School Online
When You Finish
When do I receive my certificate?
Completion certificates are processed within 24 hours of completion of the Florida traffic school online course. Depending on the court or county in which you received your moving violation, a certificate of completion will either be mailed straight to the court for processing or we'll mail you your certificate to bring in yourself or mail-in to the court. We will notify you of your particular court's requirements after you have completed your online course registration.
What if I waited until the last second, can you rush deliver my certificate?
Yes. If your due date with the court is approaching fast, we highly suggest that you choose either the FedEx Second Day Delivery with Same Day Processing ($18.00 extra) or FedEx Overnight with Same Day Processing ($25.00 extra) for delivery of your certificate.
If you complete the program BEFORE 6:00pm EST Monday – Friday, we will have your certificate shipped out that day. If you complete the course AFTER 6:00pm EST Monday – Friday, we will ship out your certificate the next day.
PLEASE NOTE
: COMPLETION CERTIFICATES WILL NOT BE SHIPPED OR RECEIVED ON WEEKENDS OR HOLIDAYS.