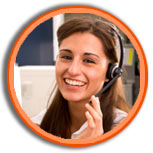 Florida First Time Driver Online
Taking The Course
How long does your online drivers ed course take?
The online driver ed course will take 4 hours to finish and is comprised of 7 sections. All first time driver courses are required to take 4 hours to complete (regardless of being online or in-person). The Department of Highway Safety Motor Vehicles (DHSMV) regulates this requirement.
Do I have to complete the entire course all in one sitting?
It's entirely up to you. Our online course is self-paced, which allows you the flexibility and control to complete your online drivers ed at your convenience. Want to complete you course all at once? No problem. Want to complete your online course over several days, weeks, or months? No problem. With our built in timers and log-in/log-out features, you can stop and re-start your course as often as you would like. We will track the time you've already spent on each section so you can always pick up where you left off. It's that simple!
What do I do if I fail the course?
You are required by the state of Florida to take and pass a test. In the unlikely event you fail our online course, you have the advantage of re-taking the test if you don't pass on your initial attempts. In addition, you have the ability to review all material before answering any questions and the comfort of knowing that all answers to the test questions can be found in the course. If you are having problems or issues comprehending the material, you can e-mail us at
info@trafficschool.com
.