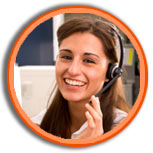 Need Help? Contact our Licensed Partners Directly!
At FloridaTrafficSchool.com, we have partnered with two industry leading traffic safety education providers to deliver you the best driver safety education and traffic school courses available. If you have questions about any of the courses we offer, feel free to contact them directly for fast, helpful service.
Contact Information
Florida Traffic School Course • Contact Info

This course is offered by
TrafficSchool.com
, a certified course content provider and the nation's preferred choice for satisfying traffic school and drivers education on the Internet since 1994.
Phone: 1-800-691-5014
Email:
info@trafficschool.com
On the Web:
TrafficSchool.com
Florida First Time Driver Course • Contact Info

This course is offered by
Drivers Ed Direct
, an online first time driver school. Drivers Ed Direct is revolutionizing the drivers education industry with their state approved and educational online safety courses.
Phone: 1-800-728-1048
Email:
info@DriversEdDirect.com
On the Web:
DriversEdDirect.com