Drivers Ed Direct: Helping You Meet Your Driver Education Requirements

Drivers Ed Direct introduces the best Drivers Ed and Drivers Training service available today. Our commitment to teach new drivers in a way that is educational, fun and stimulating has made us one of the fastest growing driver safety and education companies out there. To find out if Drivers Ed Direct offers a state approved course in your area, simply visit the Drivers Ed Direct Homepage and enter you state and zip code...it's that easy!
The days of stale and boring drivers ed classrooms are long gone. Innovative companies like Drivers Ed Direct are committed to revolutionizing the driver ed industry by using interactive flash technology, gas-electric hybrid cars and SUVs, one-of-a-kind, certified driving instructors, and the most up-to-date driver safety curriculum. Find out more about the benefits of your drivers ed experience with Drivers Ed Direct by exploring the links on this page.

Fulfilling your drivers education requirement has never been more convenient and simple than it is now. More and more states are moving away from requiring students to endure hours upon hours inside of stuffy, cramped drivers ed classrooms. Instead, progressive states have embraced the ever evolving interactive classroom environment, allowing students to learn their driver ed lessons online, from the comfort and convenience of their own home.
According to a recent Department of Motor Vehicles (DMV) study, "... students who completed the courses involving computer-based and internet instruction performed better on the study exit examination than did students in the workbook and classroom courses..." Our online courses provide the student with a complete learning experience with interactive, animated lessons, professionally written driver safety content, and relevant, thought provoking questions and statistics.
So what are you waiting for, jump-start your interactive driver education journey today by visiting our Online Driver Education Course page to determine if drivers ed classes are available in your state. Drivers Ed Direct offers driver ed opportunities for the teens of today and the drivers of tomorrow. Learn more about us by exploring our innovative, easy to navigate website or by calling tool-free at 800-728-1048.
See Why We Are The Next Generation of Driver Ed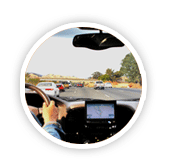 Drivers Ed Direct is a drivers training for today's teenager. We provide drivers ed in gas-electric hybrid vehicles with patient and friendly instructors. Moreover, we offer safe driving instruction that includes best practices for operating a vehicle with the distraction of today's popular electronic devices, such as cell phones, PDAs, navigation systems, and more. We also realize that many of today's new drivers are operating SUVs, which is why we provide an option to train behind the wheel in a Sport Utility Vehicle. The world of today's drivers is transforming. Drivers Ed Direct addresses this transformation with a unique suite of online classes and behind the wheel training. Welcome to the future of drivers education.
Find More Traffic Safety Resources Here

Looking for something besides a great driving school? Odds are, you can locate it at DrivingLinks.com. Find various resources, from auto insurance rates and car sales to online DMV forms and information. Visit DrivingLinks.com today and let them help you "Find Your Right of Way on the Internet."
Find Helpful DMV Resources at Drivinglinks.com: